A Look Back in Time at WCHS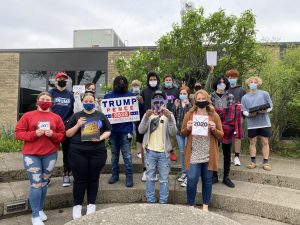 Sociology teacher Mrs. Rachel Shteiwi is called down to the library; what is going on? As she walks in, she is confused to see the school librarian, Mrs. Sarah Reynolds, ecstatic with a cardboard box. When Mrs. Shteiwi opens the cardboard box she finds random, colorful items and classic WCHS memorabilia from what seems to be from ages ago. 
The cardboard box is a time capsule from the WCHS Sociology Class of 1985. This created a new source of inspiration for Mrs. Shteiwi's own Sociology class. 
According to a newspaper article found in the 1985 time capsule, the project was thought out by Ms. Marge Mott, 1985 Student Council advisor. It was created by Mr. David Glancy and Mr. Tom Henderson's Sociology classes. The teachers and students expected it to be opened in 2010. The students in 1985 had many questions about the students now. Pam Huber in "Do Not Open Until 2010" asked "What will the teenagers of tomorrow think of a Swatch watch? Will Bruce Springsteen still be pumping out the hits? Will 'Miami Vice' or 'The Bill Cosby Show' survive into the next century? Will teenagers in 2010 still worry about getting good grades?" 
 When Mrs. Shteiwi found the capsule, she opened it to objects representing what WCHS was like in 1985: a course of study, style, entertainment, lifestyle; and what was the biggest worry: AIDS. 
Senior Hailey Loreant says "I thought it was cool and fascinating. It was crazy to see a lot was the same and the only problem was AIDS rather than a pandemic. The school is the same. Life was nearly the same." 
As to what 2021's Sociology class put in the box, Mrs. Shteiwi says "Currently, we have a mask, popular songs, a yearbook, a magazine, newspapers about events this year, inauguration, and Trump's impeachment trials." and "Some other things we plan on putting in the box is a collage of hairstyles we like, a list of slang, beauty trends, an old Xbox One, and they are also trying to represent TikTok."
The capsule is set to be opened in 2040.
 Mrs. Shteiwi says that she is very proud of her class and how engaged they are.
 When the Sociology students were being interviewed, a few were working on the display of all of the items included in the time capsule. They perfectly organized the display to be colorful and eye-catching, so that when someone walks by they know about the time capsule.
Senior Victor Kallon says that he thinks the people opening the capsule in 2040 will be very futuristic, but similar to us with few advancements in things such as technology and that life will nearly be the same. 
There is no way to accurately predict how the students of 2040 will react to the capsule or even what they will remotely be like. From 1985 to now, a lot has changed, but at the same time a lot is very similar. But with advancements in technology rapidly increasing, students of 2040 might be much different.
You can view artifacts for Mrs. Shteiwi's on display in the library.