Noah Martin, Staff Writer
April 19, 2019 • No Comments
Duke. North Carolina. Kansas. Kentucky. Gonzaga. The usual suspects come March are ready to play. But this year there were some lesser known schools that didn't make things easy for the blue bloods. The 2019 iteration of...
April 19, 2019
April 19, 2019
November 16, 2018
As a WCHS student, would you be FOR or AGAINST a closed-lunch policy, where students would not be able to leave for lunch, to promote school safety?
AGAINST (100%, 27 Votes)
FOR (0%, 0 Votes)
Total Voters: 27
Loading ...
2019 District Art Show: Cancelled
April 19, 2019
Every year, the district-wide art show is held in the high school cafeteria. Students' artwork from every school in the West Carrollton City Schools District is displayed so the community can view and...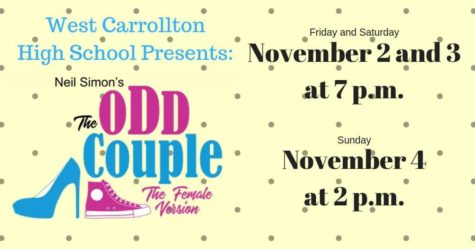 TONIGHT: The Odd Couple takes the stage
November 2, 2018
This year's fall theater production, "The Odd Couple," directed by Mrs. Emily McGuff and Mrs. Nicole Ingram, premiers tonight! The production, which stars a cast of our very own WCHS students, will...
April 20, 2018
Since early January, when WCHS returned from winter break, the band got to work reading pieces and practicing during seventh period every day. The band also practiced at  a few after school rehearsals, and a preview concert the week before the contest.