"Hairspray" at WCHS this weekend
The annual spring musical for WCHS has come! This weekend, Hairspray will be performed in the Guiler auditorium here at WCHS and you should be there!
The production will start at 7 p.m. on Friday and Saturday, and 2 p.m. on Sunday.
The story is about Tracy Turnblad, who lives in Baltimore in the 1960's. She auditions for "The Corny Collins Show" and wins. Overnight, she becomes famous.
Students ranging from seventh to twelfth grade will participate in this musical production. This is the 26th spring musical performed at West Carrollton.
Everyone involved in the show gets along, according to freshman Noah Garrett, who plays Edna Turnblad.   "Everyone is awesome to be around. We have all gotten together to hang out after," said Garrett. Garrett is playing a female role, which he finds to be fun and different. When asked about advice to people considering to be a part of the production, he said, "Have fun! It's not scary, be someone different and enjoy it while it lasts."
"This show is really a lot of work! The ensemble is in more scenes than usual and the show has TONS of dancing so we have had to focus a lot of time on choreography. We are really ready to show everybody how great it looks!" said Mr. Brian Coleman, the choir teacher. Rehearsals started in the last week of February, but the first meeting was back in May of 2015.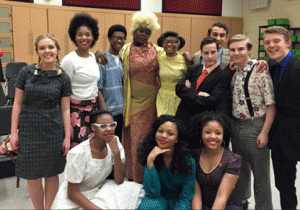 Mr. Coleman is one step ahead of students and is already planning next year's show, but wouldn't give any hints as to what it is. He added, "I'm always willing to listen to suggestions for our next big hit! Don't expect me to give anything away though. I will always say that I can not confirm or deny any rumors or allegations!"