WCHS volleyball hosts pink out game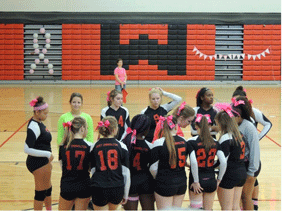 Hang on for a minute...we're trying to find some more stories you might like.
Tuesday, October 4, the WCHS volleyball team hosted a breast cancer awareness game. They raised over $200 for the Breast Cancer Awareness Foundation.
The team raised funds by having a bake sale and with profits from the concession stand said Coach Rebecca Dwenger.
Students from all grades came to the game to support the volleyball team finding a cure. Many students gathered in the crowded stands wearing all kinds of pink clothing and jewelry like beaded necklaces, shirts, and even shoes, according to Coach Dwenger. This game was important to many staff members and students because so many people in the WCHS community have known someone that has suffered from cancer.
The team won a close game to Trotwood-Madison High School. They lost only one of four sets. Parents and students that attended the game showed lots of energy towards the team by cheering on names of the players.
According to sophomore volleyball player A.J. Neal, the team always says good things about other players, even if they have done something wrong or on accident. The team always tries to improve not only by practicing physically but mentally. The team practices activities to call the ball out when they have it so the girls from the team can rely on that one player who has got the ball. The girls used this technique this season to end with a great year. The team won half the games that they played. They hope to improve to become better each year said Neal.
The coaches encouraged the girls to keep playing well and not to give up if they did not serve the ball the way they wanted to.