West Carrollton Football Defeats Breast Cancer
The WCHS football team hosted their annual Pink Out game for breast cancer on October 14 at home. The game started at 7:00 p.m. and the team hosted a tailgate before the game. Athletic Director Mrs. Nancy Beers said the event was free but they were asking for donations to go toward breast cancer research.
A Pink Out game is a very common thing in for sports teams to do in October, breast cancer awareness month. According to breastcancer.org, almost 1 in 8 women will develop breast cancer in their lifetime.There are many families in West Carrollton that have been affected by breast cancer. This game was to honor those who have lost loved ones or have been affected by breast cancer.
The players were really excited for the game. "I'm pretty excited for this because this is one of my last games and it should be a good game," said senior slot receiver Jayven Webster. "Hatcher is only letting us wear pink shoe strings, towels, pre-wrap, and gloves"  said Webster. This game has really important and meaningful feel to it. "I've never been affected by breast cancer in my life, but I really feel for the players and students who have been," Webster said.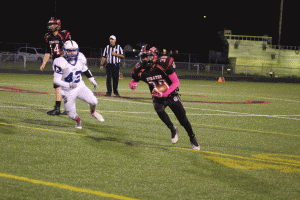 Photo courtesy of yearbook
At the tailgate there was be cornhole, face painting and a lot of fun family activities. In addition to the various Pink Out activities, all fall sports seniors, excluding cheer, band and football, were recognized before the game.
The tailgate was a success and had big turn out. The final score was 41-6. It was a hard game but the crowd was rowdy and full of spirit.