Let's Celebrate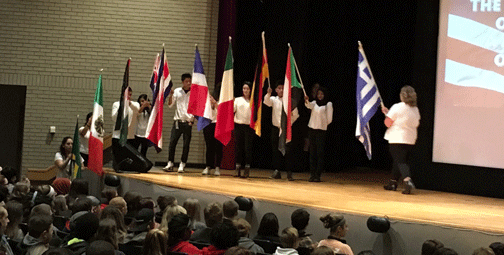 Students at WCHS can get a feel for what it is like in different cultures around the world and in the U.S. during this year's Cultural Celebration. This year's celebration is this morning.  The celebration is hosted by the Culture Club and everyone is invited.
WCHS will be on an altered schedule to accommodate the assembly. Classes will be about 37 minutes long. 
This years Cultural Celebration will give students a feel of what it is like in different countries around the world. The celebration will help students understand and see what Culture Club is all about. The Cultural Celebration is also meant to promote the club for students who may be interested in joining.
The Culture Club also hosted an assembly last night for parents at 7 p.m. in the high school auditorium.
There will be flags used in the performance from different countries to showcase the different countries involved in the celebration and to honor the rich cultural background of WCHS students. Students have been practicing really hard for this performance.
So if you did not see the performance last night, make sure you get to the assembly today. It will be a cool performance that will showcase all the different countries Culture Club is celebrating. It really is a great experience and an interesting assembly that will give you information about the cultures people study and are a part of today.