QPT and Valentine's Day
Dinner, chocolates and hearts. This Valentine's Day, WCHS is off for QPT day so you can really step out of the box. You can still spend the day with your significant other, but it doesn't have to be filled with the lovey-dovey norm.
A fun place to go to this holiday would be Breakout Games. It's at 8120 Washington Village Drive, here in Dayton! For those who don't know about Breakout: y
ou get locked in a room and you have to put clues together from inside the room to break out. You're locked in the room for as long as it takes for you to solve the mystery. Breakout has 6 different room themes and the cost is $25 per person.
Maybe you want to be a little more relaxed but still want to go out. Try the movies! This would be good for Valentine's Day because you can dress up or down and spend time with others.
There are lots of movies coming out on Wednesday, Feb. 14. "The Shape of Water" and "Fifty Shades Freed" are two movies coming out on Valentine's Day that are romantic but are also filled with drama, so they won't be too much of a chick-flick for the guys.
Maybe you're into comedy. A funny movie, by the looks of the trailer, would be "Peter Rabbit." "Rabbit" comes to theaters Feb. 9. An edge-of-your-seat thriller to watch will be "15:17 to Paris," also released on Feb. 9.
There are lots of good snacks to eat at the movies, so you can still get your Valentine's chocolates in. Movie ticket prices at Cinemark in West Carrollton vary from $8 to $15.
Close to the holiday, you can get lots of Valentine's Day decorations at Target! They have sales on candy and almost all decorations. The Reese's hearts, Dove chocolates and red velvet Kit Kats are inexpensive chocolates at Target.
Don't want to spend $60 on chocolate covered strawberries? Make your own! Strawberries aren't too expensive and Hershey's bars are also inexpensive. It's as easy as melting the chocolate and dipping the strawberries in. You can also add toppings onto the chocolate after it has dried. You can crush peanuts, Oreos, pretzels or anything else that satisfies your sweet-tooth.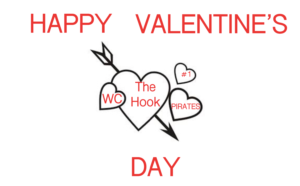 Spend Valentine's Day with people you enjoy being around. Make the day as happy as you want it to be.
Felicia Smith