Does Pineapple Really Belong?
Pineapple on pizza has been disputed ever since it was created, and there are two very clear-cut sides to the argument: those who like it and those who don't. There has been a lot of speculation about who first created Hawaiian pizza (pineapple with ham), but most people accredit it to Sam Panopoulos, 83 year old cook and businessman, who died last year.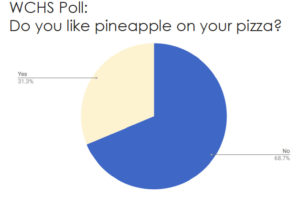 Many chefs, including the world-famous Gordon Ramsay, say that pineapple does not go on pizza, explaining that it ruins the Italian tradition. Additionally, Icelandic President Gudni Johannesson went as far as to favor a ban on it in 2017, but no actual laws have been passed. I believe pineapple doesn't belong on pizza; baking a sweet fruit with other extremely salty ingredients just isn't appealing to most.  
The basis behind why Mr. Panopoulos decided pineapple was a good topping was that he discovered that he liked the contrast it had with the ham on Hawaiian-style pizza. Many other pizza lovers argue the same thing, saying if it's cooked well, then the flavor combination is perfect. However those opposing pineapple on pizza believe, no matter how well it's made, gross is gross.
A survey sent to all WCHS students' emails on February 1 asked whether WCHS students like pineapple on pizza or not. Out of 150 responses, 68.7 percent of those who responded to the survey said they did not like pineapple on pizza, while the remaining 31.3 percent said they did. This merely represents a portion of students, however it clearly states a majority of them do not approve of the topping.
Although the conflict between those who favor pineapple on pizza and those who don't will most likely go on forever, there is one thing to be said about it all: no matter what topping, no matter how odd, people are free to eat what the want, how they want. Even though it is clear that no self-respecting Italian would dare put pineapple on their pizza.