WCHS students have fun over spring break
Hang on for a minute...we're trying to find some more stories you might like.
What did WCHS students do over spring break? Did they go on vacation? Did they sleep? Did they play video games? Let's find out!
A poll on The Hook's website asking for WCHS's spring break plans surveyed 21 students. The top three highest responses went to hanging out with friends (11 votes), sleeping (9 votes) and video games (8 votes).  The 3 lowest votes went to the movies, Sky Zone and bowling.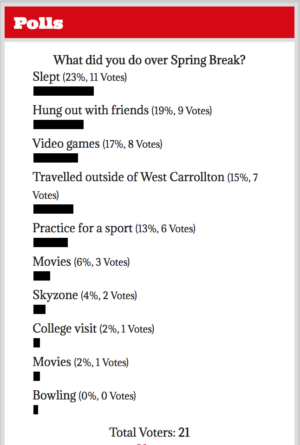 TJ Williams

Senior Aaron Lehman went to Rocky Fort Lake to spend the first weekend of spring break. Lehman hung out and goofed off with family and friends. He said both friends and family went to the lake house to hang out with him. Lastly, he played some video games including Fortnite, Call of Duty: WWII and Rocket League.
Junior Tristan Dillon spent the week in beautiful Florida. He went to the beach almost every day and night. He also played Fortnite while in Florida. He went to Boca Grande and swam. When Dillon got back from Florida, he went to a football camp at Paul Brown Stadium.
Fortnite, a very popular, free, battle-royale video game was released on Jul. 25 2017 but WCHS students just started playing not too long ago. This game was created by epic gaming. This game consists of a solo, duo, or squad gaming experience. You can play with friends of the same console or cross platform with PC. The game starts out in a waiting lobby with around 95 people per match. Then all of the players are on a battle bus and have to glide down to a location to get loot like guns, explosives and materials to build when fighting. In the end, there is only one winner unless you are in a duo or squad game. In February, the game made $126 million.