Midnight in Paris
Hang on for a minute...we're trying to find some more stories you might like.

Ms. Baker
Prom will be at The Crowne Plaza in Dayton on Friday, May 4. The dance for juniors and seniors will be held from 8-11 p.m. and After Prom will include Sky Zone and bowling.
Prom tickets cost $25 and ticket sales began April 12. Students can buy Prom (and After Prom tickets for $10) during all three lunches. The first 300 students to buy a ticket will receive Prom favors. The theme for Prom this year is "Midnight In Paris," and was chosen by this year's Prom Committee.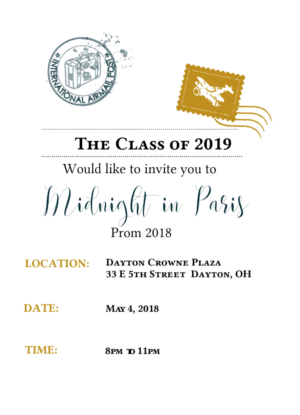 Ms. Baker

After Prom will begin at midnight at Sky Zone followed by bowling at Poelking Lanes from 1:15 a.m. – 3:15 a.m. There will be bus that will take After Prom ticket holders from the high school to Sky Zone, from Sky Zone to bowling and finally: from bowling back to the high school.
This year's May 4 Prom date had many Prom Committee members suggesting a Star Wars theme. This theme would have fit well with the "May the 4th be with you" quote known by many. However, this theme was outvoted within the first round of theme voting.
Junior Prom Committee member Jordan Ma likes that the juniors run Prom Committee. Ma wanted the theme to be enchanted forest, but thinks that "Midnight in Paris" is a good theme as well. Ma's favorite decoration for the dance is the giant Eiffel Tower, something many of the Prom Committee members are excited about. He believes the students should be most excited for the dance portion of the night.