Elementary School Frank Nicholas Closing
Running Children. Full Busses. Happy Teachers
These are things you will no longer see passing the Frank Nicholas Elementary School. In order to save money, the district has decided to close Frank Nicholas School and use the space as reserved building for the upcoming 2019-2020 school year.
Frank Nicholas Elementary School has been a elementary school since 1959 thriving with young children trying to get their education. But over the past five years, the district has seen a steady decline in student enrollment. According to a statement released from the West Carrollton Schools Board of Education, at the beginning of the 2015-2016 school year there was a dramatic decline in student enrollment. Frank Nicholas only averaged 16.8 students per classroom from October 2015 and October 2018.
       WCHS principal Mr. Dorian Glover at Nicholas for 3 years.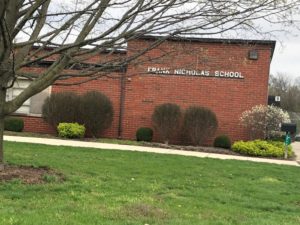 He liked Nicholas because of the smaller, family atmosphere. "Each year the fifth grade class would do something unique  and different due to then leaving and moving up to sixth grade. They would leave me some kind of gift or some kind of message." Little things like this made him feel special.
According to the Board's statement, the district is currently working on building new schools and the Frank Nicholas property doesn't have enough acreage to accommodate a new building. During the building process, other schools in the district and Frank Nicholas might be used as a temporary space while other buildings are getting torn down. Another option for Nicholas would be offering the building for adult education or to head preschool programs.
Current Nicholas students in first-fourth grade will be put in open classroom seats at Schnell (a year-round school) for the 2019-20 school year. If parents choose not to put them in Schnell, they have a option to request re-assigning their student to either Holiday or Russell Elementary School, depending on the space available in those schools.