Volleyball Charity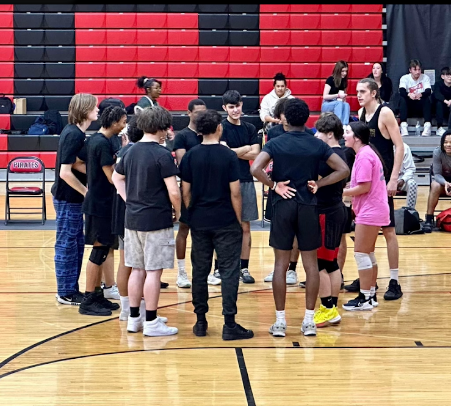 The Varsity volleyball team has talked about having a game that would involve other male athletes. The NHS (National Honors Society) finally organized a charity that not only helped them but helped the team as well by allowing us seniors to play just one more time on our home court. The charity was organized as everyone paid $5 to play and attend to watch.
Evidently, the JV and Varsity girls were in charge of playing and showing the boys how volleyball life works. The Varsity girls coached all three of the boy's teams which included the Sophomores, Juniors, and Seniors. Some girls also coached the JV girl's team. The matches were set up as a tournament. First, the sophomore and junior boys played and the juniors took the win. Then, the juniors played the JV girls, and with two close matches, the Junior boys won that as well. The last match was between the senior boys and the Varsity girls, ending with an intense game. Having two varsity girls switching back and forth between playing and coaching, the Varsity girls took the win.
The week of the game the boys only had three practices total and with little time they learned and improved so much once it came down to game time. It was a very good experience for everyone that was involved. The NHS team did a wonderful job organizing everything and allowing the girls to lead the boys to playing their favorite sport! The NHS raised around $2,000 which went towards St.Judes. The school should continue this tradition because many students and staff members enjoyed the entertainment and it was a good cause.