Senior Field Trip Ideas
Seniors, are you satisfied with all the memories you've accumulated with your fellow peers? If not, we've got a little over 9 weeks to create memories with our classmates before we spread our wings and head different ways. Whether or not we make these memories in or out of school,  this is the last chance we have.  Any chance of missing school is a plus for us, so why not try to make these memories during school hours?  Every senior class deserves one final "Hurrah" to wrap up their school memories.
Seniors should have a day off school to go on an all-day field trip of some sort. This would enable students to have a fun-filled day while bonding with most of their peers. After graduation seniors will be too busy advancing by going to college, going in the military or going straight into the workforce.
The idea we're proposing is based of the trip to King's Island in 2014 for all seniors who completed the FAFSA. Because of the high cost of a trip like this (principal Mr. Craig Myers approximated the last trip cost over $6,000), students should be willing to pay admission if the administration provides the day off. The cost for a Kings Island admission is $30, and it will come up to $7,500 if 250 seniors attend. Bus parking at Kings Island is free. At Scene 75 there are a couple packages that consist of 1 hour of Inflatable Bouncing, 1 Laser Tag Game, and a $5 Arcade Game Card, for only $17.99 per person. Another Package would be1 hour of Chaos Room Gaming, 1 Laser Tag Game, 1 Go-Kart Ride, 1 round of Mini-Golf, and $5 Arcade Game Card for only $28.99 per person.  
After estimating how much it'd cost and depending on how many seniors have completed the FAFSA, according to a Twitter poll with 51 student participants, 35% responded that they are willing to pay $30-$40 on our last official class bonding activity. Three suggestions created by our editorial staff were a picnic at Wilson Park (an inexpensive option), a day at Dave & Busters or Scene 75, or a day out Kings Island's and Soak City.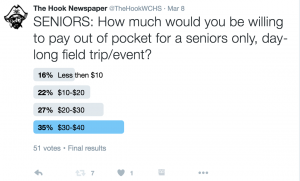 After gathering this information from administration and students, the 2016 seniors should ask to have a senior field trip before they graduate high school.  If this trip were to happen, the seniors would get a chance to all get together one last time before graduation.