NHS Christmas Party
Happy children. Free food. Santa Claus. Families are getting ready for this year's NHS Christmas Party. NHS created the Christmas Party as an opportunity to make children happy and to give back to the community.
On Dec. 4, NHS will host the event at WCHS. Children pre-K to second grade from West Carrollton Schools can come to enjoy a range of activities and treats.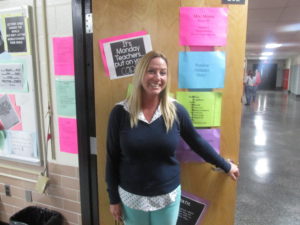 "I will be helping, serving food and making sure everyone is happy," NHS adviser Mrs. Morris said. Mrs. Morris, along with her co-adviser Mrs. Beth Mitchell, are in charge of running this event. NHS students will also be there to help with the party. NHS is working hard buying the gifts, preparing the food and designing the decorations to make sure the community has fun attending the party.
Art Club adviser Mr. Matthew Reynolds said, "We were asked to paint faces last year for the party and the Art Club loved it! Now it's our new tradition." Other WCHS clubs including Muse Machine, German Club, and Book Club will also be contributing to the NHS Christmas Party.
"The successfulness of the Christmas party is based upon how many people come. The more people there, the better the Christmas Party is," Mrs. Morris said. Mrs. Morris wants more of WCHS to come out to the party, whether it is to help with the party, or simply bringing your siblings and having a good time.
The NHS Christmas Party has been going on for at least 10 years. Over the past years, the party has been successful in making children joyous. NHS hopes this year's Christmas Party will also be successful and encourage the WCHS community to get involved. Let's make this NHS Christmas Party the best one yet!