New mural sparks creativity
A new, exciting mural created by senior Abby Medcalf will be coming to WCHS library this semester. This will give WCHS students a way to look at art outside the art room and will give Medcalf an opportunity to showcase her work.
Medcalf began creating her mural the week of Feb.18. Acrylic will be used as the media for the mural. The mural will have the theme of career readiness. Medcalf plans to portray the careers and colleges of some of the teachers and staff of WCHS in her mural.
Medcalf has showcased many traits of creativity and courage by working all by herself on the project. She is also trying something new: she has never painted a piece of her art on a wall before.
Mrs. Sarah Reynolds, WCHS librarian, is excited to see Medcalf's new library mural. She believes that it will draw attention to our career readiness section and also brightening up the library. Mrs. Reynolds also hopes that students notice the college and career books and start preparing for life after school. Mrs. Reynolds said she thinks Medcalf's mural will be successful.
Medcalf and her supporters hope students will take time to look at the new library mural. WCHS should be a place were all students and staff should be able to express their artwork. Remember: Art is a pathway to your own imagination, but you have to take the first step.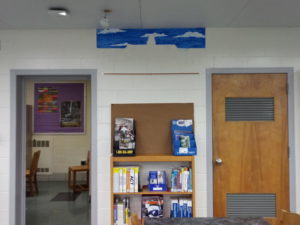 Moniece Guerin
The mural will be contined over the semester and will be finshed by the end of it.