WCHS New Breezeway
A new project is breezing its way through WCHS. JMD Architectural Products, with the help of Trademark Electric, has started construction on an enclosed breezeway with the approval of the district school board and safety committee. The breezeway will connect the main school building to the 400s building in hopes of providing better protection.
"Safety reasons," is what West Carrollton City Schools' business manager, Mr. Jack Haag, had to say when asked about the true purpose of the breezeway. "We put the safety door in the front so we have to buzz people in, but it doesn't really do us any good if you have to leave the back doors of the building unlocked all the time for kids to go between the 200s and 400s."
The response was the same when junior Hamza Saeed was asked why he believes the breezeway was built. "It keeps us safe and from walking out during the day." Hamza added that he feels a sense of protection as he changes classes throughout the day.
The idea came from the WCHS administrators and Mr.Haag himself. "We've talked about it for 10 years," Mr. Haag said. He went on to share his past experience at Wayne High School's old campus. He was influenced by Wayne's old setup and how students were able to commute by breezeway throughout the campus.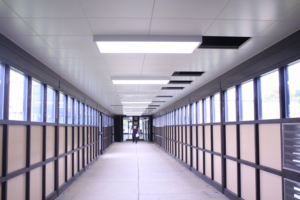 The breezeway may look unfinished at first glance, but it is currently still a work in progress. Bids for the construction started earlier this year, in May.
However, the actual construction of the breezeway didn't start until early August. The walls and ceiling of the breezeway are currently standing and in use, but there are still a few minor adjustments to be made. Without lights, vents, an exhaust fan, and fire alarm the breezeway is considered incomplete; but Mr.Haag hopes to have it all finished within the next week or so.